Cynthia Frank-Stupnik and her sister Becky conceived of the idea of creating and selling products to showcase those sold in the drug store in Scruple & Drams, Stupnik's first novel.  The protagonist, Jennie Phillips, is an apprenticing druggist in her father's store in Clearwater, Minnesota in the 1890's.  Here she learns many life lessons while concocting medical treatments for the local doctor and handcrafted products for her customers. 
Jennie sells different types of items, postcards, the patent medicines of the day, bags of scented sachet, talcum powders with matching toilet waters, and Jennie's own special rose-scented face cream that many women in the area love.
Cynthia Frank-Stupnik and Becky have formulated products to replicate what Jennie Phillips would have sold or concocted herself in the late 1800's: Jennie's products include glycerin soaps, facial creams, dry skin rubs, Epsom salt rubs, lip balms–all made with only the purest, most natural ingredients and scented with only essential oils.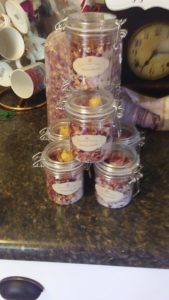 Due to the perishability of many of these items, "Sundries" can be found only at many of Stupnik's book events. One of the newest products is the rose-scented bath salts.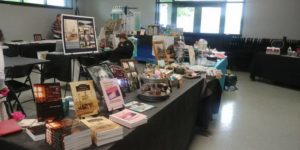 Sundries