A few weeks ago, I was driving on South Main Street in Clearwater, Minnesota, when I saw this house for sale. The first time I saw it, a sign read that it was being sold by the owner. The next time, I saw that a realtor was in charge of the sale. I am not sure where this is heading but thought I should tell you a bit about the home because of a few mistaken thoughts.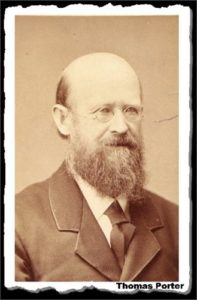 First–Thomas Porter, otherwise known as T. C. Porter, built this home in 1873. I've read everything from 1880 to 1890. The latest document from the realtor states 1880. But the "St. Cloud Journal," Nov. 13, 1873, stated that T. C. hoped the family would move in before Thanksgiving. He, Abigail Robinson Camp Porter, and their daughter Maude Porter who lived in Clearwater until 1965 or so, lived in the home until they died. Then Maude sold the whole farm and the homestead to Frank Kothman around 1920+ when she moved uptown and nearly across from the Methodist Church on Main Street. I believe Frank Kothman owned it up until he died in 1957. I am not sure if the Kurkowski family owned the house, but after they moved, Porter's home was sold to Don Lemke who remodeled it into apartments. It has since been owned and rented out a few times.
So, what's a few years? A lot of living went into those years that I hope you'll read about in my upcoming prequel in the Minnesota Main Street Women's series entitled, "Where Two Rivers Meet." This saga references the new house quite a few times–from kitchen to parlor to bedrooms–and is the story of Abigail Robinson Camp Porter, T. C. Porter's wife. She was the first woman to settle in Clearwater and came in 1855 to help with the housekeeping at the new townsite hotel. Can you imagine a single woman back then embarking on a career as a housekeeper in an area she doesn't know or know many who have been there? She comes after her brother-in-law, Dr. Jared Wheelock, the first Wright County doctor, bids her come to help the founding fathers, including T. C. Porter, Simon Stevens, and others, do what women have been able to do forever. Of course, there is more to learn about this woman and those who settled in Clearwater, Minnesota.
I hope to have this book available very soon. It is finished and being edited (the hardest part in my view) as we speak. Look for my announcement soon for a launch date for this mighty book set against the mightiest Mississippi River.
In the meantime, this house is so historical…its age, its building–T. C. Porter was a Minnesota Legislator, the woman of the house was the first woman of Clearwater–setting up a hotel business in 1855 and marrying the man who had been a farmer, fur trader, town and county booster, and legislator, and father of Maude Porter, Clearwater's oldest living pioneer up to 1965 who lived in the community from her birth in 1862.  Instead of selling this house to a private group, why not take ownership of Clearwater's rich history and restore it for a historic museum that is badly needed in this quaint early Minnesota village?