This week I listened to a group of younger women voters state why or why not they were not voting during this mid-term election. Some of them said they had no time. Some replied that nothing changes anyway.  One woman said there was "nothing in it for her."
I find this discouraging because it is obvious there are some out there who don't understand that some women have sacrificed themselves for the rest of us. Winning suffrage was just a start of us.
I remember a time in the late 1960's when I lived at home and worked at a job that gave me a decent income, more bucks than my father made, and yet he had to co-sign for me to buy a car and get a credit card.
I still fight at the car dealerships because if I bring my husband in with me to buy a car, that credit-giving-guy–the one sitting behind that big desk in that huge glassed in office–assumes Frank's name has to come first on "such" important paperwork.  I finally had the courage to make one guy start over again on his "paperwork in triplicate" to that put my name first because I was making the payments.  We are talking this is almost 100 years since we women have had some rights granted to us!
Since given the vote, we women have been balancing on a pinnacle.  Our freedoms are that fragile! There are those who'd like to take away our rights to make our own decisions.
So what's in it for me to vote?  To protect my female rights--my 21st Century rights–to protect all women's rights whether they believe the way I do about life, liberty, and our individual pursuits for happiness.
We have only had these rights because of those women who were on the extreme side--willing to shout, march, and suffer –some to be jailed and force-fed when they went on hunger strikes fighting to earn THE VOTE.  Others sat idly on the side-lines and called them fanatics.  Yet the hardest fighters earned the right all of us women the right to vote.
It may be a slow fight forward but we need to fight for equal rights in all that matters. It's not too late.  We have a few hours left.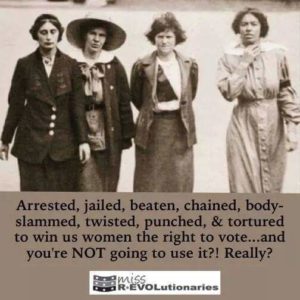 PS

Just a reminder to drop in at the 3rd Annual Clearwater (MN) Crafts and Art Vendors Event this Saturday, the 10th, from 10-3.  I'll be signing books–Maude Porter, my protagonist, would be sad if you didn't come.  Great deals on Christmas presents.
 I also choose to postpone knee replacement.  The date, Dec. 4, was coming way too fast, and neither my husband nor I could wrap our minds around the surgery or the potential for painful therapy and recuperation
I am available for book talks and other Christmas teas !!!!
Yes, give me a buzz, at books@cynthiafrankstupnik.com and I'll talk about my dynamic duo–Maude and Jennie–two  of Minnesota's Main Street Women!