Hello, again–just an update due to some back, neck, and shoulder health–I am

cancelling my part of the Kimball event.  I hate to do this, but it is necessary.  Please contact me for a good deal on some books, though.  I can reconfigure the paypal system just for you. 
It's that time of year–
Hopefully, the turkey is all eaten, or in its last regeneration–  soup, tetrazzini, or chili.
It is time for new–
Come on out and see what you can find for holiday gifts–a great selection of items–at the Kimball, MN, Stop 'N Shop, at the Kimball United Methodist Church.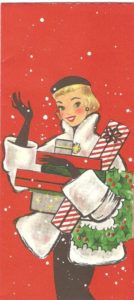 Don't forget–books make great presents, and I am bringing all mine for selling and signing.
Pins & Needles is the sequel to Scruples & Drams.  Both are suspense novels, set in Clearwater, MN, the Mississippi River town in the central part of the state.  These women I write about believe that helping those less fortunate and able is part of what they've been called to do in their lives.  They may not always agree ideologically with each other, but help is their mantra.
Minnesota Main Street series may be set in Clearwater, but its subject is universal.  Women have been facing common issues since the beginning of time–lack of education, lack of money, lack of equal pay for equal job, lack of proper health care, and the list goes on.  Maude Porter, the protagonist in Pins & Needles, see these problems are worsened for the families suffering from the male head of the family imbibing at the booze hall across from her Millinery Shop.  She has endured as much as she can after she is harassed and a friend is beaten to the point of death. She votes for temperance and will not rest until saloon has been shut down!  
While you're shopping for presents, pick up Around Clearwater as well to for a historic background on this village that has great ties to the Twin Cities, the east coast, Canada, and Europe.  I have a couple  of Postcards from the Old Man left as well–my memoir of my early years growing up in Clearwater. The Old Man, as mentioned in the title, occasionally causes snickers because some believe I am writing about my father or husband.  When they laugh at the title, I almost start crooning the famous Show Boat tune, "Ol' Man River"    (go ahead, click, and listen to this marvelous song by Paul Robeson.  While he signs that he wants to run away from this body of water because it means enslavement, I feel tied to it, inspired by it, strengthened by it, and I feel it flowing in my veins.
So remember that books make great gifts, wrap yourselves up in the spirit of the season, and come on over to the vendor, craft, art sale in Kimball, MN, at  141 State Highway 55 P.O. Box 414  Kimball, MN 55353.  I heard they have a Christmas lunch and bake sale going on as well.
https://kimballunitedmethodistchurch.weebly.com/
Have a joyful and blessed holiday season.
Cindy