Oh,  yesterday was lovely.  A day like that creates in me a joyful and expectant heart, and wax poetic.  I can't help remembering one of my favorite poems I first learned in Poetry 101  by Gerard Manley Hopkins:
Spring
Nothing is so beautiful as Spring –
   When weeds, in wheels, shoot long and lovely and lush;
   Thrush's eggs look little low heavens, and thrush
Through the echoing timber does so rinse and wring
The ear, it strikes like lightnings to hear him sing;
   The glassy pear tree leaves and blooms, they brush
   The descending blue; that blue is all in a rush
With richness; the racing lambs too have fair their fling . . .
Robins are sweeping my back yard and singing their hearts out.  Lambs and calves are taking their first quivering steps. Mostly, hope is in the air as well as a sweet smell of redemption.
Today–rain. While we don't want floods, maybe the moisture will melt the remaining snow banks and urge early flowers to burst forth.  With Easter bouncing upon us this Sunday, I am putting away winter coats and pulling out spring/summer clothes, which in my closet equals capris and short-sleeved T's.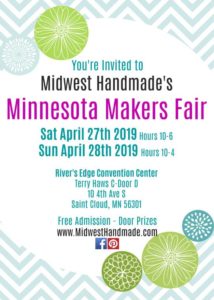 I am also eager for  the last weekend in April-27th, 28th.  I will be selling my books  at the Midwest Homemade Artisan Fair  at the River's Edge Convention Center. 
"We will have over 75 artisans from 5 Midwest States at this handmade only event held in room Terry Haws C at the River's Edge Convention Center in downtown St Cloud, MN.
Saturday Leighton Broadcasting will have KCLD on site from 10-12, and WILD Country from 1-3.
The reasonably priced concession stand will be open 10-4 Sat and 10-2 Sun."
In addition to taking place near my favorite locality, the Mississippi River, and one which I write lots about in my books, including my Minnesota Main Street Women series, this event promises to be fun and a great way for the wonderful artists to show off their stuff.
Happy spring, and hope to see you soon..
Cindy