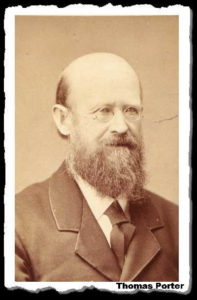 This year I'm doing something a bit different for Clearwater's Heritage Days in Minnesota.  I'm  rendezvousing with others below the Clearwater dam in Lower Park. Come on down and see where Clearwater, or Clear Water as it was written early in its history, first began.
One fur trader you could imagine meeting down here is a village founder, Thomas, T. C.,  Porter.  Born in Norristown, Pennsylvania in 1826, young Tom left home with a shoemaking trade to support himself when he moved to Missouri for a short time.  A half-brother he referred to as Lafe set him up in the fur trading business.  From there, Tom took a riverboat up the Mississippi and landed at St. Anthony where he, his cart, his two oxen, the first in the Red River ox trade business outfitted with two oxen, beaver pelts, and other supplies to trade at Pembina  and Fort Garry in Winnipeg, Canada.  He made acquaintances with other fur traders and members of the Selkirk Colony, including the Metis, those great crossed-culture peoples of Scotch, Irish, French and First Nations.  Eventually,  T.C. settled down to help develop the village.  He became a farmer, held many positions in the community government, and became a state legislator. He married Abigail Robinson Camp, the first white woman to come to Clearwater,  who gave birth to Jessie Maude Porter in 1862.  Clearwater's oldest pioneer. She died when she was 103.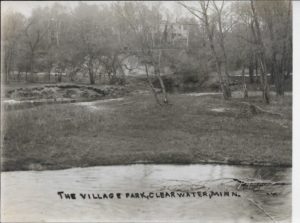 Do you know that here in Lower Park the village began?  Thomas Tollington, his house is still standing up the hill on  Spring Street, opened a saw mill down here. He became a furniture builder and an undertaker.  Other people like H. C. Wait, (he is the namesake for Waite Park) opened a feed mill called the Clearwater Roller Mill.  Don't forget Pat Quinn's first saloon, a sample room, was down here as well before the 1897 flood swept it down the Mississippi, taking the Catholic church historic records that he was storing with it. The Lynden Township Hall also stood down here.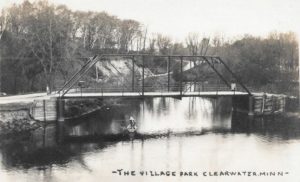 History is what heritage is all about.  Without the village's early history that links it to places all over the United States, Canada, and Europe, Clearwater Heritage Days would hold no meaning.  So come rendezvous with me, my sister, and other more official land and water travelers down at the park.   Recognize their deep culture as they exhibit the skills needed to survive in the varied elements.  Watch them exhibit their daily routines of cooking and cleaning their campsite.  Talk with them about their lifestyles, the dangers they faced on their journeys, what and how they ate and slept.
I'll be selling my books, Scruples and Drams, Around Clearwater, and Postcards from the Old Man.  In addition, my sister and I will be selling some of Jennie's Corner ephemera.  Unfortunately, due to the climate, we cannot bring Jennie's Corner element-sensitive products like soaps and lotions.
I am not a morning person (nor am I an evening person), but I'll try my hardest to be set up or at least present in the park by 9 a.m, Saturday, August 5.