Walden Pond or Warner Lake. Which is which?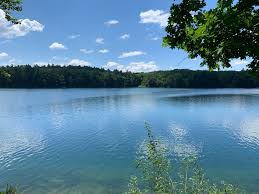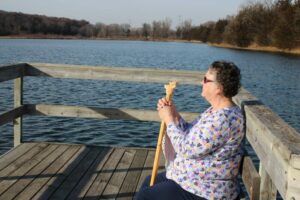 Warner Lake, November, 2020.
My sister usually knows when I am dry and need to revamp and refuel so I can write.  So one warm, Fall day, she and I hiked a bit around our lake. This is home.  We lived here for over five years when we were young. I have composed poems, essays, and even books about this area. It is honored to be called one of Minnesota's 10,000 lakes. Even though it is about half the size of  another watering hole I am inspired by, Walden's Pond, near Concord, Massachusetts, its size has never minimalized its occupation as a lake.  It is here at my inland sea, I seek my refuge, my muse, my soul's nourishment, so to speak, when I wander around Warner Lake.
Often, after school starts in September, the paths and dock are nearly empty, but today we had quiet company.  Becky and I thought we had a clue to what was being gently pulled from a car when we parked  for our walk.  As we got out, grabbed our jackets, I grabbed my deerhead walking stick, and I locked up, we saw a ball of white fluff at the end of a leash.  I wondered: Maltese? White Terrier? Chihuahua? Ah, a Shih Tzu!  Nope, on all types. Instead, we would be followed by a white Persian, pulling its owner toward the lake while her boyfriend hauled the fishing gear.  What?  A cat heading for a lake?  Sure enough, the kitty laid on the blanket, but turned its head and body  away from the water.  While the couple started to fish for crappies and sunfish, they told us that they go everywhere with him, and he especially loves it here at Warner Lake.  We then settled down in quiet contemplation, me for a literary nibble, they for a chance to grill later in the day, and my sister for a photo op.
A couple years ago on a trip to Snake River Fur Post, I made an impromptu purchase that has serviced me quite well.  Until I had knee replacement last year, I hobbled around too vain to use a cane.  So there in the Fur Trading post, in the gift shop, I found wonderful walking sticks for sale.  I could have picked from bear, moose, wolf, or deer.  I chose Rudy who has guided me on my path since.  This day, he led me to where I could sit and stare at the familiar vegetation that has changed little since I was a child.  I think of our summers wher the fish jumped nearly into our boat, where I wandered down to the bridge crossing Plum Creek that flows in and out of the lake on its way to the Mississippi, and to winter where he led Santa's sleigh across the black, starry sky for my little sister nearly sixty years ago. As I hang on to Rudy now, I do so for balance as while the knee is 100%, the back is suffering from years of injuries.
While kitty naps far away from me, (everyone knows I do not like cats) and sister takes her always surprising pictures, I feel refreshed and refocused.  It is the air, the swishing and lapping of the blue-green water, and the joy it gave my family, Camp Suima's campfire girls, and George Warner, its namesake for the farmer who settled here in the 1860's, and the Chippewa, Sioux, Ojibway that came long before us.  For me, this small lake creates stories and lessons my old friend Henry David Thoreau could appreciate if he were still at Walden.  I now have my next chapter.
P. S.  Pict on the left Walden Pond, Pict on right Warner Lake, me below at Warner with Rudy leading me on.