When we were working, my husband and I took yearly summer vacations.  It turned out to be a sort of spur-of-decision where we'd head but often took off east. From Maine to the Keys, we traveled, stopping to see historic sites and breathe in the ocean air.  Anything history from Acadia National Park to Fort Jefferson at Dry Tortugas National Park we explored inland and outlands, hardly a spot we did not explore up and down the coast.  Our favorites, though, are Salem and Danvers, Massachusetts, where the Salem Witch Trials took place and affected many of my own ancestors' lives.  We have taken in many, if not most, of the Civil War historic sites and battlefields such as Gettysburg, Arlington National, Vicksburg, Chickamauga & Chattanooga National Military Park, Antietam, the list goes on. We drove right into Andersonville, at the end of the day but were ushered out after a short drive, yet not before we saw Minnesota's memorial to our men.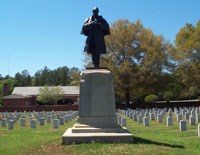 Many of the Around Clearwater men as well as my ancestors enlisted, fought hard, suffered, and even died for our country. 
One man I have been researching is Ellet Parcher Perkins.  In the next of my Minnesota Main Street Women series, Ellet, a cousin of hers,  accompanies my protagonist from Vermont to Minnesota when her brother-in-law writes her to come work as a hotel housekeeper in the early days of Clearwater. While this information may or not be fiction, the following isn't.  After enlistment, he rises from corporal to captain with great honors but suffers from his wounds the rest of his life.  So many of these men fought while their wives and families took over the work at home.  The same can be said for the other wars that followed.  So much sacrifice on the battlefields and home front for our country.
This year Memorial Day, we will honor all who have suffered so much in war, https://www.britannica.com/topic/Memorial-Day (how Memorial Day was founded ) and now we include our thoughts and memories of those who fought Covid here at home.  Those who fought to keep us healthy and those who died without their loved ones surrounding them with love.
It's been a hard year, undoubtedly, but now as we head out to celebrate Memorial Day, let's not forget all those who have fought for us and those who have sacrificed their lives.
Have a great weekend.
Cindy