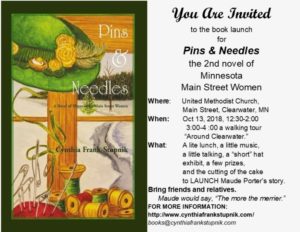 It took a while, but I am so proud of my new book, Pins & Needles.  Here is the information from the back cover:
Maude Porter's narrative takes place in the Mississippi River town of Clearwater, Minnesota. Daughter of village founders Tom Porter and Abigail Camp Porter, she owns a millinery store upstairs of Boutwell's Hardware Store. From here, she can keep her eye on the comings and goings of the village. What she sees causes quite a commotion, but what she hears over her newly installed telephone could spell trouble. In this sequel to Scruples & Drams, readers see what life is like in the late 1800 and early 1900's for the "new women" who were educated, strong-minded, and holding down careers. Women like Maude have concerns about the health and well-being of many women who are overworked, under-educated about their bodies, and become pregnant way too often. While Maude understands that suffrage and equal rights are important, she also sees how the consumption of alcohol ruins families and communities and causes some men to be brutal. At first Maude believes education is the key to ridding the town of the many drunks and their brawls outside Quinn's Saloon. Ultimately, though, she and others, men and women, come to realize that prohibition is the only answer to setting their world in order.  For Clearwater, the answer is clear: shut down Pat Quinn's Saloon.
One of my reviewers, Dr. Sally Roesch Wagner,  stated this:  "In this historic novel set in 1909 Maude Porter and Jennie Phillips balance their careers with fighting for women's basic rights – some openly, others behind the scenes. These old friends, who we met in Cindy Stupnik's earlier Scruples & Drams, continue to face fearsome adversaries with growing courage and conviction. Along the way, we meet the historic characters who populate the village of Clearwater, Minnesota and get a flavor of early white settlement and its challenges. Stupnik has a gift for drawing us into the time and place, and this book hits the mark."
Sally Roesch Wagner, Ph.D.
Executive Director, The Matilda Joslyn Gage Foundation, Inc.
Adjunct Faculty, The University Honors Program, Syracuse University
Adjunct Faculty, St. John Fisher Executive Leadership Program
Public Scholar, Humanities New York
So come one, come all, to my book launch –Oct. 13, 2018, at the Clearwater United Methodist Church, Clearwater, Minnesota. Starting at 12:30, we will have music, lite snacks, cake, coffee, book signing, and around 3, a walking tour of the locations I write about in my books.
Cindy Stupnik